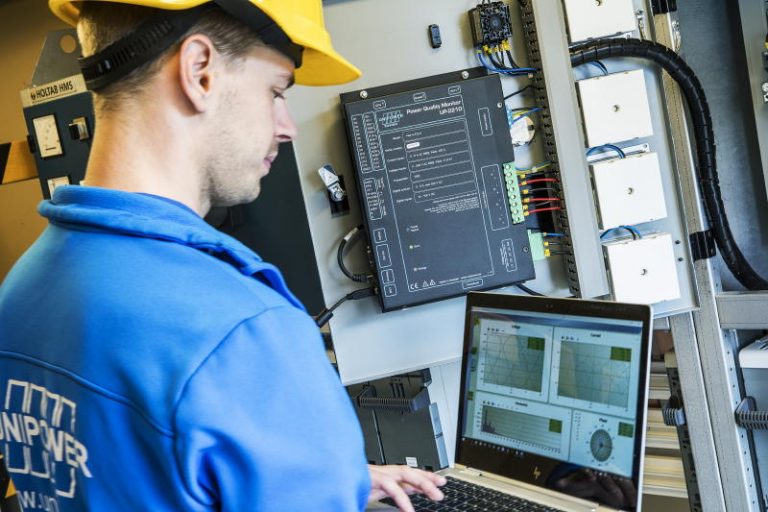 PQ meter for power quality measurement 
The nodes in the PQ Secure system consist of UP-2210 meters. Class A power quality measurement
The UP-2210 unit works as an advanced power quality meter and at the same time as a fault recorder. All of the power quality parameters can be analysed in accordance with voltage quality standards such as the EN 50160 or national regulations such as the Swedish EIFS.
The UP-2210 unit captures both steady state disturbances (harmonics, flicker etc) as well as rapid voltage changes (sag/swell events and fast transients). Event list, graphical data, and reports
The PQ Secure system will automatically transfer data from the UP-2210 units to the central database according to a user-specified time schedule. The software will also analyse the measure result and show it as events in an event list or as graphical data.
The software also has an automatic report generator that can create reports in accordance with international power quality measurement standards such as EN 50160.
For more information about the PQ Secure system or the UP-2210 meters, please contact your local representative or Unipower.
Complies with standards:
EMC:

Voltage characteristics:
EN 50160,
EN 61000-2-2,
EN 61000-2-12
Harmonics:
Flicker:
Power quality measurement methods:
UP-2210, Class A measure unit and fault recorder
Don't hesitate to contact us!
Let us become your power quality partner. Contact us at Unipower and let us help you reach your power quality and monitoring goals.