Upstream Frequency Disturbance
We have received questions about disturbances in the grid. Do we have any examples? Here is an interesting example showing how disturbances spread through the network.
A major frequency disturbance occured in Scandinavia on December 1, 2005. In this comparison we have compared measuring data from the source of disturbance in northern Sweden with data from our own meters in Alingsås (near Gothenburg) and we can also see the consequences in northern Norway.
The cause of the disturbance is disconnection of a large power plant in northern Sweden creating loss of critical power generation. This generates a major frequency dip. The time for the disturbance is 15:02:36 on December 1, 2005 and the frequency drops to 49.3 Hz. The disturbance is of the same magnitude in all of Sweden. The dip in Sweden was 0.7 Hz. In Norway, there is a frequency rush of 0.6 Hz (see the two top charts below). How can this be?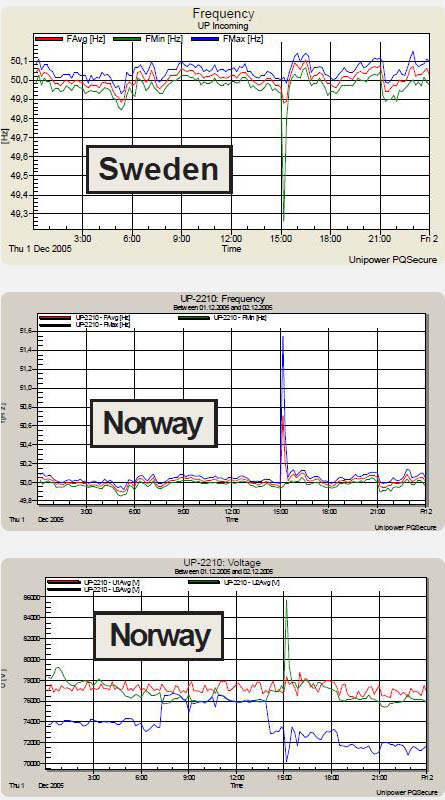 Well, at the time of the disturbance Norway is supplying power to Sweden. As a result from the disturbance, the connections between Norway and Sweden are disconnected. The effect is that Sweden, which is a large load, disappears and there is suddenly a great surplus of power in Norway. A large swell was registrered by the UP2210 as a result of the frequency disturbance. A swell of 8000 Volt is registrered more than 300 kilometres from the disturbance (see lower chart above).
The main consequences in Sweden were different types of breakdowns and production standstills. The process industry and heating plants were especially afflicted. Practically all heating plants had problems due to this disturbance.