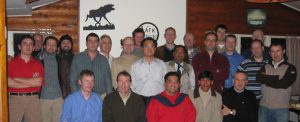 From January 25th to 27th 2005, representatives from Unipower€™s distributors in Europe, Middle East, Asia and Latin America gathered in Alingsås to attend our 2005 Sales Meeting and Conference.
During this event, we presented 2005 product releases such as the new version of the PQ Secure Software and the Unilyzer 902 with Bluetooth communication and PDA connectivity.
The meeting also served as a great opportunity for all members of the Unipower family€ to come together and get to know each other better. Case stories and application examples from all over the globe were presented.
The group also enjoyed a wintry Alingsås with snow and below zero degrees. The program included a number of recreational activities such as traditional sauna with winter bathing in a frozen lake for the bravest, outdoor barbeque and downhill sledge rides.