Sidharath Bhalla, participated in the PQ Secure training programme scheduled April 2010 at Unipower in Sweden. We took the opportunity to ask him some questions: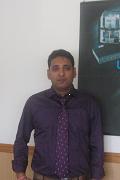 David: What is Power Quality?
Sid: The power is used everywhere. There are some standards as per which the power need to be supplied and used. These standards decide the quality of Power used by the end users. If the power is not supplied and used as per the standards then it can damage the equipment.
David: What are the benefits of Unipower Equipment?
Sid:
1) More reliable equipment and they meet class A norms / standards i.e. IEC 61000-4-30
2) Easy to use and user friendly software
3) All types of communication possible such as: GPRS, GSM, Telephone, RS232, RS485 and Ethernet
David: What is the purpose of your stay in Sweden?
Sid: To get trained on the Power Quality Equipment and its benefits, communication, data management, installation etc.
David: You has been stuck in Sweden for an extra week due to the Icelandic volcano, what do you think about that?
I think it€™s an opportunity to learn more about power quality and how it can help the end users. Plus it€™s also an opportunity to explore Sweden and visit new places.
______________________________________________________________________________
A student, David Andersson, wrote this interview as a part of his studies.