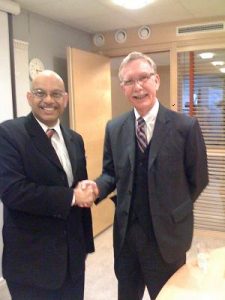 A seminar between H.E. Ambassador of India, Mr Balkrishna Shetty and representatives from companies in Sweden was held on Mars 26, 2010. ALMI Vast in Gothenburg hosted the event.
The Ambassador, H.E. Mr Balkrishna Shetty pointed out the importance ot mutual cooperation on a growing market. India is a fast growing market, numbers from July 1, 2009 to mars 1, 2010 shows 13,7% increase according to independent sources. It is therefore important that relations are established between the authorities in India and Swedish companies, like Unipower, in order to expand services business in India.
At the meeting the Ambassador of India, H.E. Mr Balkrishna Shetty and Unipowers Export Area Manager, Mr Lennart Sundin, discussed Power Quality Systems for supporting the energy distribution in India.
Power Quality Management is an issue of concern for India, in due of the energy accessibility being limited and disturbance in transmission- and distribution companies net is a suppression factor, for delivery of electric energy.
Unipower take part in these investments together with PCI Ltd, Unipowers partner in India.
ALMI Vast AB and Unipower will also cooperate with the purpose of transferring knowledge to India. This project will be carried out 2010-2011. Mr Robert Larsson, International Business Development, ALMI Foretagspartner Vast AB, has a large scale of experience of India and great knowledge of how to establish business, supported the discussions.